What is the FMCSA Drug and Alcohol Clearinghouse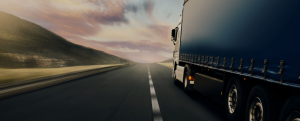 On December 5, 2016, the Federal Motor Carrier Safety Administration (FMCSA) amended its rule that would establish requirements for commercial driver's license employers and individuals with regards to the drug and alcohol clearing house. 
The Clearinghouse is a secure online database that will allow employers, the FMCSA, State Driver Licensing Agencies and State Law Enforcement to access real time important information about a CDL Driver's drug and alcohol program violations.  This database  will ultimately enhance safety on our Nation's public roadways.
When must the FMCSA Drug and Alcohol Clearinghouse be used?
The FMCSA Clearinghouse has two key dates to keep in mind.  On January 6, 2020, authorized users will be required to complete the actions described in the Clearinghouse final rule. (Click here to download)
At this time, employers will be required to conduct both the new electronic queries and the current traditional manual inquiries with previous employers to comply with the three-year time frame which is required by FMCSA's drug and alcohol use testing program.
This 3-year time frame is for checking a  CDL driver violation history. and it is important to note that drivers may also view their own records for information recorded on or after January 6, 2020.
The second key date will be on JANUARY 6, 2023:   This will mark the 3 year date of collecting electronic data and once the three years of violations data has been reported and stored in the Clearinghouse, employers are no longer required to also request information from the driver's previous FMCSA-regulated employers under 391.23(e).
an employer's electronic query of the  Clearinghouse after this date will satisfy that requirement.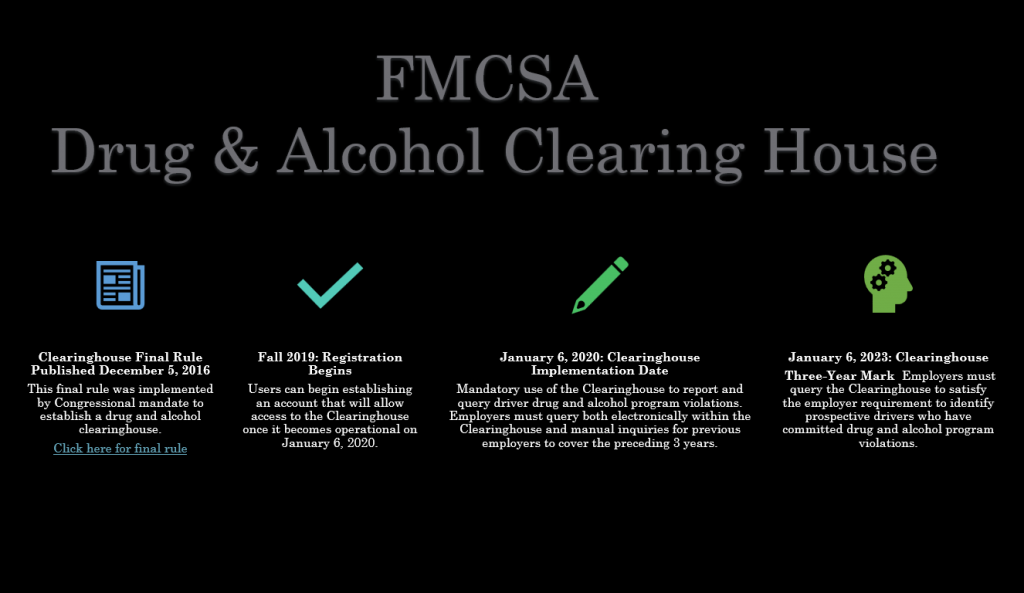 What Information will the FMCSA Drug and Alcohol Clearinghouse Contain?
The FMCSA Clearinghouse will contain information on all CDL drivers' drug and alcohol program violations.
These violations will include:
Report for duty/remain on duty for safety-sensitive function with alcohol concentration of 0.04% or greater or while using any drug specified in the regulations (Part 40), other than those prescribed by a licensed medical practitioner
Alcohol use while performing, or within four hours of performing, a safety-sensitive function
Alcohol use within eight hours of a post-accident alcohol test
Test positive for use of specified drugs
Refusing to submit to a required alcohol or drug test
Who will be using the Clearinghouse?
Employer Responsibilities-
Employers must report drug and alcohol violations and check that no current or prospective employee is prohibited from performing safety-sensitive functions, such as operating a CMV, due to a drug and alcohol program violation for which a driver has not successfully completed a Return-To-Duty (RTD) process
CDL Drivers Responsibilities- 
CDL drivers are responsible to view their own record, provide consent to current or prospective employers for the purpose of accessing details about any drug and alcohol program violations and select a Substance Abuse Professional, if needed
Medical Review Officers-
Report verified positive drug test results and test refusals
Substance Abuse Professionals-
Report Return to duty initial assessment and eligibility status for Return to duty testing
Consortium/Third Party Administrators-
On behalf of an employer, a TPA may report drug and alcohol program violations and perform driver queries as required
State Driver Licensing Agencies 
Query the Clearinghouse prior to completing licensing transactions
What drivers or employers will be impacted the FMCSA Clearinghouse?
All CDL drivers who operate CMVs on public roads, their employers and service agents. will be affected by the clearinghouse.
This includes, but is not limited to:
Interstate and intrastate motor carriers, including passenger carriers
School bus drivers
Construction Equipment Operators
Limousine Drivers
Municipal vehicle drivers (e.g., waste management vehicles)
Federal and State agencies that employ drivers subject to FMCSA drug and alcohol use testing regulations (e.g., Department of Defense, public transit)